Fri, 30 May 2008
Margot Livesey on Shakespeare
"Margot Livesey grew up in a boys' private school in the Scottish Highlands where her father taught, and her mother, Eva, was the school nurse. After taking a B.A. in English and philosophy at the University of York in England she spent most of her twenties [in Toronto] working in shops and restaurants and learning to write. Her first book, a collection of stories called Learning By Heart, was published by Penguin Canada in 1986. Since then Margot has published six novels: Homework, Criminals, The Missing World, Eva Moves the Furniture, Banishing Verona and The House on Fortune Street (May 2008)."
Margot has taught at numerous universities, and received many awards and fellowships. She is currently a distinguished writer in residence at Emerson College and the John F. and Dorothy H. Magee writer in residence at Bowdoin College. She lives with her husband, a painter, in Cambridge, MA.
We met at the Philadelphia Book Festival, and talk here mostly about Shakespeare, and how themes found in Hamlet wend their way through much of what she has written: trust, betrayal, how much you can push other people around, entering stories from different angles, exits as entrances; the Alexandria Quartet, cranberry sauce, pieces of stories, cubism, faulty fractured vision, authorial versus character-faithful metaphors, Jane Austen, Jane Eyre, Tolstoy's ability to inhabit a wide range of characters, apparitions, the tradition of ghosts being real, our relationship with the dead, stories within stories, the sin of irrelevancy, Keats's wish to be taller, and Margot's ambition to make her sentences ('ethical units') better.
---
Thu, 29 May 2008
Conversation with German Graphic Artist Anke Feuchenberger
Anke Feuchtenberger was born in 1963 in East Berlin and is one of Germany's leading comic illustrator/ artists. Her award winning work has been published in numerous books, newspapers, magazines and anthologies, and includes paintings, drawings, comics, posters, prints, costumes and puppets.
Her illustrations and comics are rendered in highly recognizable style, often featuring naked, childlike creatures with huge heads, wandering through strange, dream-like landscapes. Her haunting stories are a mixture of nightmare and fairytale. She is currently a professor of arts at the Fachhochschule für Gestaltung in Hamburg.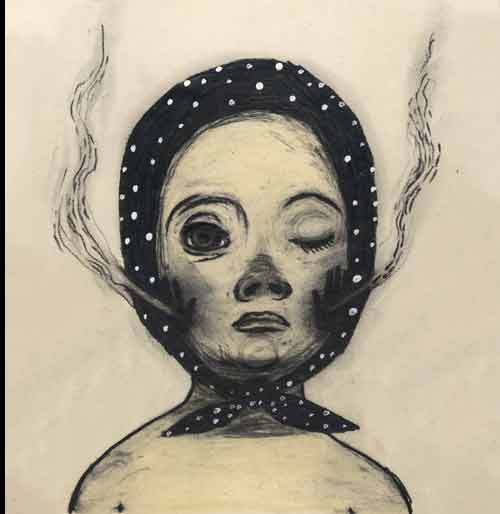 We met at the Blue Met International Literary Festival in Montreal recently, and talk here about babies and politics, how election posters gave her her first big break, utopia, the difference between East and West Germany, loneliness, vertical newspaper columns, her complicated comics, graphic novels, Edward Munch, Kafka, her success outside the borders of Germany, and Super Tear, her babushka superhero.

---
Tue, 27 May 2008
Glenn Patterson: On Belfast, Cities, Disney, Tolstoy and Public Houses
Glenn Patterson was born in Belfast in 1961 and studied Creative Writing at the University of East Anglia under Malcolm Bradbury. He is the author of seven novels. The first, Burning Your Own (1988), set in Northern Ireland in 1969, won a Betty Trask Award and the Rooney Prize for Irish Literature.
We met at the Blue Met International Literary Festival in Montreal to talk about reassessing the past, the development and urban topography of his home town Belfast, cities versus nations, Disney, Tolstoy's theory of history, human complexity, his latest novel The Third Party, apathy, public houses, the minor impact of books, and how happy he is with his oeuvre.
Copyright © 2008 by Nigel Beale
---
Tue, 27 May 2008
Alaa Al Aswany on Fiction and Democracy

Egyptian writer Alaa al Aswany was born in 1957 and studied dentistry in Egypt and Chicago. In addition to fiction, he writes on literature, politics, and social issues. His second novel, The Yacoubian Building, an ironic take on modern Egyptian society, was a significant best seller in and outside of the Arabic world. Chicago, a novel set in the city of that name was published in January 2007. The English translation is due out in bookstores this Fall.
We met at the Blue Metropolis International Literary Festival in Montreal recently, and talk here about the contamination of literature by politics, compartmentalizing the two, achieving artistic value, Martin Amis and Islamism, the fallacy of Mark Steyn's fear mongering, the novel as life on paper but more profound, significant, beautiful than the 'real' thing, the writer's need to listen to the sound of the heart, the difference between writing and fabricating, and why his novels have enjoyed such world-wide success.
Please listen here:
---
Mon, 26 May 2008
John Hollander on Good and Bad Poetry
Born in 1929 in New York, educated at Columbia, John Hollander is a poet and literary critic. He has written more than a dozen books of poetry, and seven books of criticism, including Rhyme's Reason of which Harold Bloom said: "[it is] on all questions of schemes, patterns, forms, meters, rhymes of poetry in English, the indispensible authority..." and why I was so keen to interview him. According to New York Times, Hollander stresses the importance of hearing poems out loud: "A good poem satisfies the ear. It creates a story or picture that grabs you, informs you and entertains you."

His honors include the Bollingen Prize, the Levinson Prize, and fellowships from the Guggenheim Foundation, the MacArthur Foundation, and the National Endowment for the Arts. A former Chancellor of the Academy of American Poets he is the current poet laureate of Connecticut, and has taught at many different universities, including Yale.
We met recently at the Philadelphia Book Festival. I spend most of this interview relentlessly and unsuccessfully trying to badger him into identifying, comparing and describing the differences between great and bad poems. To name names. We do get to some of the great (Rosanna Warren, Shakespeare, Browning, Swinburne, Rossetti, for example) but he will not go anywhere near the bad. Toward the end, clearly tired from the day's activities and my uncalled for bullying, he reads a beautifully funny and thoughtful poem, based on a quote taken from Boswell's Life of Johnson, found in his most recent collection, A draft of Light.
Please listen here:
---
Sun, 25 May 2008
Andre Alexis on the themes in his Novels
Photo by Sari Ginsberg
André Alexis was born in 1957 in Trinidad and Tobago. His parents left for Canada when he was a baby. The family reunited in Ottawa when Alexis was four years old. He still remembers the trauma of this separation; it has coloured much of his writing since. Themes of absence, displacement, belonging and home animate his work. His debut novel, Childhood (1997), won the Books in Canada First Novel Award, and was a co-winner of the Trillium Award.
---
Tue, 13 May 2008
Andrew O'Hagan on Determination, Memoir, Israel, Martin Amis, Islam and Coloured Doors
Andrew O'Hagan's most recent novel, Be Near Me, has just won the Los Angeles Times Book Prize. It is the story of an English priest who takes over a small Scottish parish in a post-industrial town by the sea; a story of art and politics, love and faith, and the way we live now, which pretty well summarizes the conversation we had this past weekend at The Blue Met International Literary Festival in Montreal.
More specifically we talked about tragedy, escape, the determination not to be determined, fathers, the blurred boundaries between fiction, memoir and journalism, the United States, the role of writer in society, Martin Amis and Islamism, parents, writing ones own life, and coloured doors in social housing projects.
Copyright © 2008 by Nigel Beale. www.nigelbeale.com
(For more of Nigel Beale's Musings on the Book, Literature, Poetry, Literary Criticism, Collecting, Media, Life and the Arts...please visit http://nigelbeale.com)
Please listen here:

---